Date/Time
Date(s) - 03/09/2019
6:00 pm - 8:00 pm
Location
WeWork Shoreditch Mark Square
Categories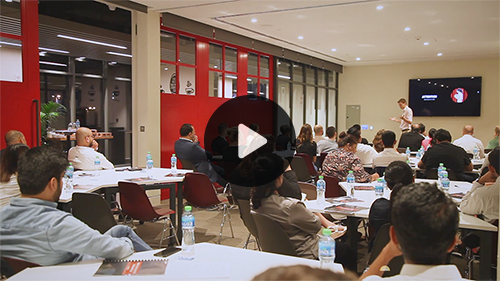 This interactive workshop is designed to help non-technical marketeers get to grips with marketing data. You will learn how to use Google Analytics, what the data means, and how it can be used to improve your marketing strategy.
You will leave the workshop armed with a new skillset that lifts the fog on your marketing performance, giving you fresh clarity and the insights to make informed decisions.
On the night you will learn how to gather and understand your data, as well as:
An Overview of Google Analytics

Getting set up

Measurements: How often and how much?

How to accurately compare

Avoiding bias

What questions to ask the data

Filtering & Segmentation

Custom Reports

The difference between Metrics and Dimensions

Tracking tips

Combining online with offline data

Understanding channel performance

What to do with these insights
Hosted by James Pardoe & Jack Pascoe. James is a Digital Marketing veteran, co-founder of renowned digital agency Grow, and Consultant for Google. Jack is MD of Grow London with a global track record in high performance digital strategy. Both have first-hand experience with the power of data analytics & the game-changing impact it has when correctly utilised.
This is a unique opportunity to advance your knowledge in marketing analytics and performance tracking. The workshop includes real-world examples and group exercises to help you get to grips with, and simplify this complex topic.
This is an intimate workshop so seats are few and restricted to Marketing Professionals only. Register now because the seats do sell out quickly.
Where: No1. The Poultry, 10 seconds from Bank Underground Station (Poultry Exit). Located in Wework within the building.
At the event, there will be drinks, including Beer, Cider, Sparkling Wine, Tea & Coffee. Also, opportunities to network and hear challenges and successes of your peers through the interactive marketing workshop.
Who Should Attend
The workshop is suitable for Marketing Professionals in medium to large B2B companies.
These principles also apply to B2C marketing, but the workshop will be focused on B2B examples.
Ambitious & eager to learn marketing heads that understand the pace of change in digital marketing, and keeping abreast of new approaches is key to staying competitive.
Workshop Testimonials
I can see the real benefits to my business already from this session. Kat Jackson – Limelight P.R
Most informative marketing event I've attended, very impressed. Camilla McDermott – Headbox
It was really easy to understand & more importantly effective. Great exercises. Really clear and authentic. Amazing to see powerful case studies. Delia Elock – Way To Blue
Within the workshop the explanations were simplified, for the non-expert to understand it well. There were great examples and tips that I can apply immediately. Hassan Homade – ME EXPO