Date/Time
Date(s) - 10/08/2019
1:00 pm - 3:00 pm
Location
Chermside Library
Categories
Marketing your book is a necessary part of becoming a published author or illustrator.
Worried you can't do it all? You don't have to! You just have to do what works.
Join the 'Book Launch Queen' Dannika Patterson to uncover ways to identify your target audience, find out who they are and what platforms they hang out on, then concentrate your energy there.
Setting up a book launch or in store signing, social media profile and contacting print media might be intimidating at first as you'll be marketing yourself to complete strangers, but there are processes you can follow to ensure the best possible outcome.
Participants will learn from an industry professional who has successfully launched her best-selling book, Jacaranda Magic, with Ford Street Publishing with a national tour. Dannika will share the essential tools to help you have the most professional and successful book marketing campaign as possible. The key is being equipped with the know-how and products that you will need, along with a supportive community to help you along the way.
Tea and Coffee Provided.
Speaker Bio
Dannika Patterson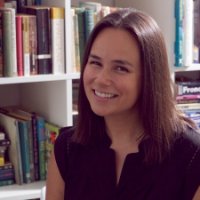 Dannika Patterson is a children's author, marketing and copywriting consultant, whose work has been published across a range of traditional and multi-media platforms.
With a strong background in international content development and marketing, as well as degrees in Journalism and Child Psychology, Dannika has found the perfect alignment of her talents and passions in writing quality literature for children.
Dannika loves to write stories that delight children, spark curiosity and open relatable conversations. Stories that engage the minds and echo in the hearts of little listeners and grown up readers alike.
Dannika believes quality books are critical to children; to fuel imaginative play, to encourage early literacy, to teach, to linger, to promote change and for the pure and simple LOVE of reading and writing.