Date/Time
Date(s) - 04/03/2019 - 05/03/2019
8:00 am - 1:00 pm
Location
Columbia University - Lerner Hall
Categories
Now in its 12th year, BRITE '19 will bring together 500+ leaders from business, technology, media, and marketing to discuss how innovation is transforming the ways companies build and sustain great brands. The conference will present future-forward innovations, new imperatives for service industries, marketplace strategies, and thought-provoking questions… and answers.
Participants come to think differently about the changing global landscape and to connect with a unique group of innovators, marketers, entrepreneurs, and champions of social enterprise.
Format:
BRITE '19 will once again host a large audience for keynotes and panels featuring leading companies and case studies; new research; and demos of emerging technologies. The conference's second day will focus on interactive discussions, break-outs, and peer networking. Live blogging, videocasts, and Twitter feeds will extend the discussion at BRITE to an even broader audience worldwide.
The aim of BRITE is to stimulate conversations; it is not simply a series of lectures. Join us to talk with fellow big thinkers, hear stories of what is working and what isn't, and see the newest technologies in person.
Past featured BRITE speakers include:
Norman de Greve
Chief Marketing Officer, CVS Health

Margaret Molloy
Global Chief Marketing Officer,
Siegel+Gale


Colin Mitchell
VP Director Global Brand,
McDonald's

Adam Galinsky

Author, Friend & Foe,

Professor of Business, Columbia Business School

Valla Vakili

Director & Head of Ventures

Studio, Citi Ventures

Carol Cone

Founder and CEO,

Carol Cone ON PURPOSE

Ori Inbar

Founder and Managing Partner,

Super Ventures

Sunil Gupta

Author, Driving Digital Strategy,

Professor of Business, Harvard Business School

Amy Webb

Author, The Big Nine,

Founder, Future Today Institute
Who should attend?
CEOs, CMOs, marketing executives, brand managers and strategists, product developers, innovation directors, media buyers, viral marketers, brand consultants and agencies, online developers, social networkers, entrepreneurs, video & gaming creators, content publishers, multi-platform media companies, and emerging technology investors
Topics at BRITE '19 Included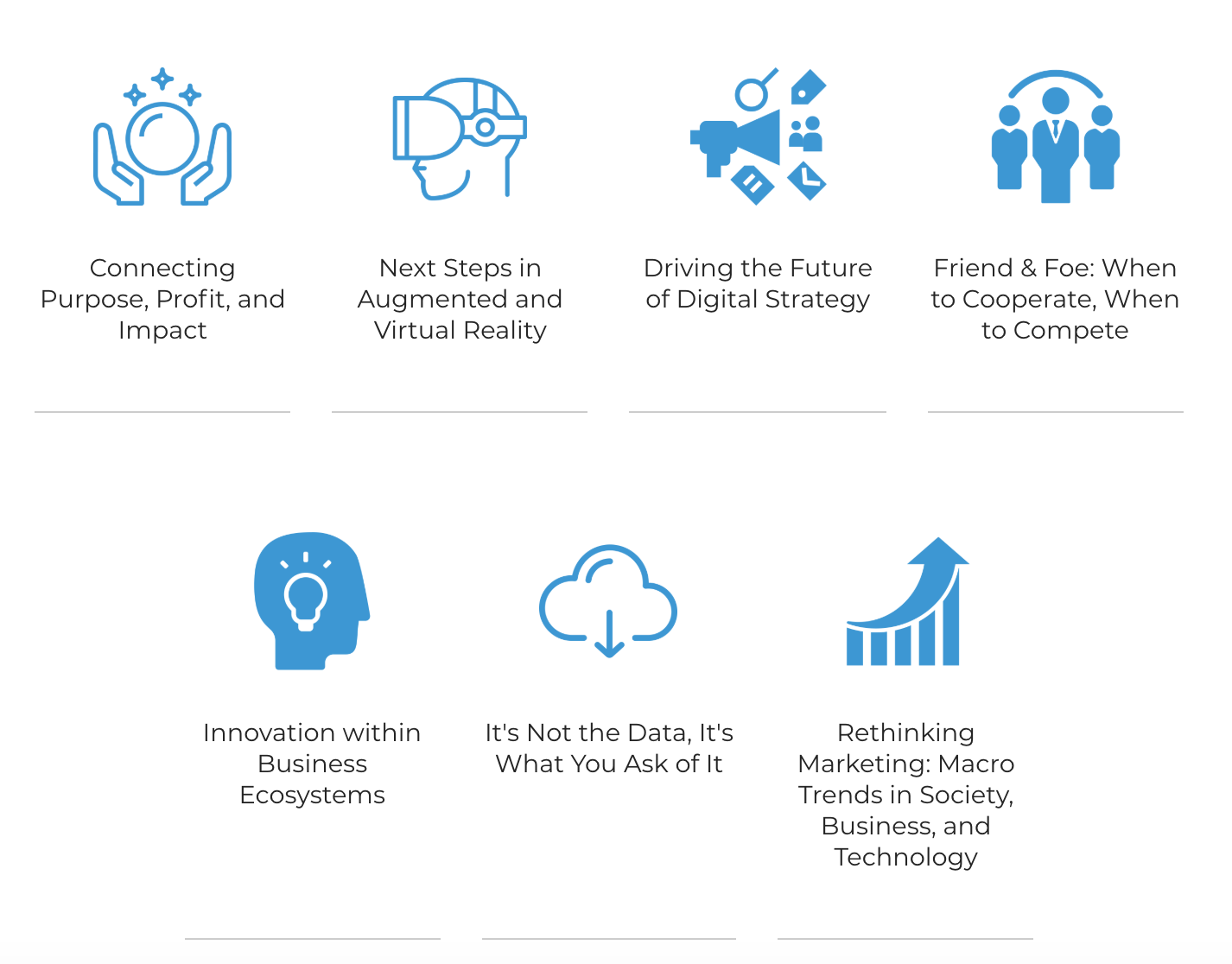 Prior events have drawn attendees from companies such as:
A&E, Absolut Vodka, Ad Age, Adidas, Aetna, AIG, American Ballet Theatre, American Express, AOL, AT&T, Audi, Avon, Bell Atlantic, BMW, Burger King, BusinessWeek, Carnegie Hall, Chanel, Cisco, Citigroup, Clinton Global Initiative, CNN, Coca-Cola, Colgate-Palmolive, Craigslist, Dell, Deloitte Consulting, Digitas, Domino's PIzza, Dow Jones & Company, Dupont, Eli Lilly, Estée Lauder, Fedex, GE, Goldman Sachs, Google, HP, IBM, IDEO,  Interbrand, John Templeton Foundation, Johnson & Johnson, Kraft Foods, LEGO, Lenovo, L'Oreal, McDonald's, McKinsey, Merrill Lynch, Microsoft, Moody's Analytics, Movado, Netflix, Nickelodeon/MTVN, Nielsen, Novartis, Ogilvy & Mather, Pfizer, Procter & Gamble, Quattro Wireless, R/GA, Reuters, Samsung, SAP, Siemens, Sony Music, Taco Bell, The New York Times, TIAA-CREF, Time Warner, UNICEF, Unilever, United Nations, Univision, Visa, Volkswagen, Yahoo!, ZipCar, and others.