Date/Time
Date(s) - 15/07/2019
10:00 am - 4:00 pm
Location
Frazer Jones
Categories
Taking the Next Steps with your Google Ads
So you've got your Google Ads account and grant, and are starting to use the free $10,000 a month to bring in new supporters, service users and donors from Google searches. But with thousands of other charities making use of the same tool, how do you cut through the noise to reach your audience?
This workshop will walk you through the process of analysing, tweaking and monitoring your campaigns for maximum impact, showing you the tips and tricks that professional marketers use to get their message in front of the right people – including how to keep up with trends, research your audience's behaviours and optimize your results.
Full agenda to be confirmed shortly.
Level: Designed for those who have already have some experience of PPC or Search Marketing, or who have spent some time with their Google Ads or Adwords Express account.
For those new to the Google Ads programme, or those who would like to refresh the basics, please see our Beginner's Guide to Google Ads workshop.
Notes:
Attendees must have an active Google Ads account, and be able to access it on the day. Please bring a smartphone, laptop or device with you, so that you can take part in some practical exercises.
---
Trainer Bio: Richard Ireland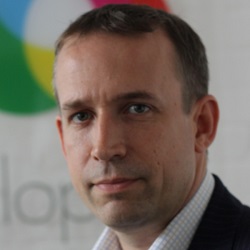 Stretch Digital has been operating since 2011 when founded by Richard, after 15 years in various digital marketing roles. He previously worked as Head of Digital Marketing at world's first online bank, and Head of Acquisition at Zopa.
He also has experience with developing technology to manage and optimise paid social advertising and is currently working with Virgin Unite and The Challenge on AdWords Grant activity and other digital marketing.
Arrival:
This workshop will be held in the Frazer Jones meeting rooms. We ask that all attendees arrive 15 minutes before the workshop starts to allow for registration and ensure a timely start and the smooth running of the workshop.
Booking:
You must be a member of Small Charities Coalition in order to attend this workshop. If you aren't already you can register for free here.
Accessibility:
We want to make sure all of our workshops meet your needs, so if you have any questions about accessibility please email: [email protected]
Waitlist:
If the places have all been filled please do add your details to the waitlist and we will let you know as soon as a place becomes available.
Cancellations and Refunds:
If you cancel your place at least 3 full working days before the event takes place then you are entitled to a full refund by request. Refunds for cancellations after this point are given at the discretion of Small Charities Coalition.
If you cannot make a workshop please advise us as soon as possible. Workshops normally have a waitlist and if you notify us early enough then there's a good chance another charity can attend in your place.