Date/Time
Date(s) - 27/02/2019
10:00 am - 6:00 pm
Location
6 Raffles Quay, #15-00
Categories
Are you developing a website soon? Are you thinking about revamping your website? Do you struggle with ranking your website on Google?
This hands-on course aims is to help participants (individuals and business owners) understand more about SEO, the common mistakes of SEO, the key SEO strategies that you can apply immediately to increase your SEO rankings!
This course will equip you on how to write content more strategically for your website and your blog moving forward.
Learn the importance to domain name purchase, page titles, page descriptions and keywords that help a website in SEO.
What you will take away from this hands-on workshop:
– Discover 15 ways you improve your website's SEO ranking
– Identify a SEO-friendly web structure every website needs!
– Design and Create FREE pop-ups (without coding) to CONVERT web traffic into email leads
– Design and Create FREE landing webpages without coding knowledge!
– Explore and Identify the demand of each SEO keyword(s) before adding it into your website copy!
– Explore the basics to Google Analytics, learn how to measure, and what to look out for in your website analytics
By the end of the workshop, participants will be able to take immediate steps and improve their website's SEO ranking on Google.
Learn the terms and lingos of SEO and SEM, and be able to understand what SEO Internet Marketing is all about.
Workshop Topic Overview:
1. Introduction to the workshop
– What is Internet Marketing?
– What is Search Engine Optimization (SEO)?
– What is Search Engine Marketing (SEM)?
2. Guide to Internet Marketing: Websites
– How does Google rank my website?
– 15 ways to improve my SEO ranking within 3~6 months (for existing websites)
– Introduction to Lead Generation with MailChimp Pop-Ups
– Learning from Case Study
3. How can I drive more traffic to my website?
– Create a SEO & SEM keyword Strategy (Google Keyword Planner)
– Learn to write benefits rather than features
– 5 Tips to having better conversions on your website
4. What are Landing Pages? How can i build them for FREE without coding?
– Guidelines to using Landing Pages effectively
– Content structure to aiding you in converting more LEADS in your Paid Advertising Campaigns
5. Hands-on activity: Creating a Landing Page Campaign
– Creating a Landing Page Step by Step with Trainer (No coding required)
– Creating your own Landing Page (No coding required)
6. Google Analytics
– Integrating Google Analytics in your website (cPanel and Admin Access required)
– What does the Google Analytics Reports mean?
– 5 key SEO metrics within Google Analytics Reports
7. What can you do on your website to improve your SEO Ranking?
– Optional consultation with trainer on your website, 10~15 mins per participant
– Coming up with your Internet Marketing Strategy & Plan
8. Final Q&A with trainer
What you will need to bring to class:
• Laptop, charger
• Mouse, mouse pad
This is a Certificate Workshop. Receive a Certificate of Completion upon completion of the workshop from Sky Digital Agency.
As seats are limited due to small class size, we recommend for participants to register early.
– – – – – – – – – – – – – – – – – – – – – – – – – – – – – – – – – – – – – – – – – –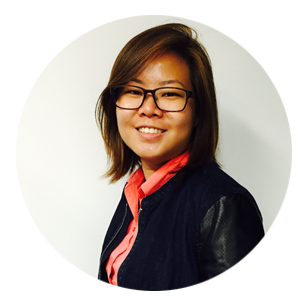 Charmaine is the Creative Director of Sky Digital Agency and The Good Designers.
She has been conducting training since 2015, equipping her clients in Facebook Marketing, Search Engine Optimization (SEO) & Email Marketing, and other key digital marketing topics. Till date, she has conducted more than 1,500 hours training.
Charmaine makes learning interactive, practical and fun. She enjoys breaking down complex topics to help participants gain better understanding on Facebook Marketing, SEO & SEM, Infographics Design and more!
She strongly believes that the training industry needs more courses and training with smaller group of participants that allows them a more conducive environment to learn, ask questions, and have more 1-to-1 time with the trainer.